</P>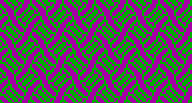 ---
PATTERNLAND WEAVE SIMULATOR FOR WINDOWS 6.06
Patternland Weave Simulator for Windows is our all new Windows software for drafting woven structure and tapestry-style designs. PWSW combines the graphical user interface of Microsoft Windows with the best features of our four DOS programs: Weave Simulator, Light Weave, Weave Publisher and Pattern Grapher. Patternland Weave Simulator for Windows was first released on August 1, 1996 as version 6.0. Many enhancements have been added during the last year, and PWSW version 6.06 was released on January 25, 1998. This letter explains how our new program functions and some important program features. Our program announcement lists more features in detail.
SYSTEM REQUIREMENTS
Patternland Weave Simulator for Windows requires either Windows 3.x or Windows 95 and an IBM compatible computer, minimally a 386 PC or 486 PC with 4MB RAM. A Pentium running Windows 95 with at least 16 MB RAM is recommended. PWSW also needs 2½ MB of free space on a hard drive.
GRAPHICAL INTERFACE
Patternland Weave Simulator for Windows is a native Windows program and uses the Windows graphical user interface. A graphical user interface allows you to use the mouse with tools that look like what they do and in a graphic environment. By moving and clicking your mouse you can grab the pencil, eraser, paintbrush or symbol brush to create the woven draft, all on top of fully scaleable graph paper. You can enter threading, treadling, tie-up or lift-plan data with the mouse by drawing in a fluid motion while continuously depressing the left mouse button, or by single clicking the left mouse button. You can also input data using the keyboard.
16-MILLION COLORS
Patternland will allow you to create your own color palettes using the Windows Custom Color Dialog Box capable of generating over 16-million colors. Or you can work with several of the 16, 64 or 128 color or gray shade palettes from the program library. You can also choose single colors for warp or weft from the Windows Custom Color Dialog or from a color palette. Using the pencil tool you can input color from the color palette for the first time. Using the paintbrush you can overpaint color simply by touching it to the color in the palette you would like to use. You can even overpaint color directly onto the weave interlacement. You can also use quick editing utilities to find and replace or exchange a color. Currently a color palette can contain as many as 512 colors.
DRAFT IN YOUR OWN PREFERRED STYLE
Patternland's drafting editors are extremely flexible allowing you to set up the draft in your own preferred style. You can create a draw-down or draw-up with either left-hand or right-hand numbering orientation. The graphpaper is fully scaleable and the optional high-lighting can be set to any increment. Numeric data can be used for editing, displaying or printing and with multi-digit numbers, convenient for multi-shaft drafting. Black & white or color with block-style or symbol-style data for threading, treadling with tie-up, or lift-plan can be set up as well. You can fully scale editing, displaying and printing of your woven draft in ends-per-inch or ends-per-centimeter. This allows you to create a readable draft for editing and threading your loom while displaying and printing smaller true-to-life swatch or cloth samples in the exact scale you wish to weave.
PWSW 6.05 Unified Weaving Editor with Windows 95 Small Fonts,
Draft/Unified Editor opens the Unified Editor to draft a weaving.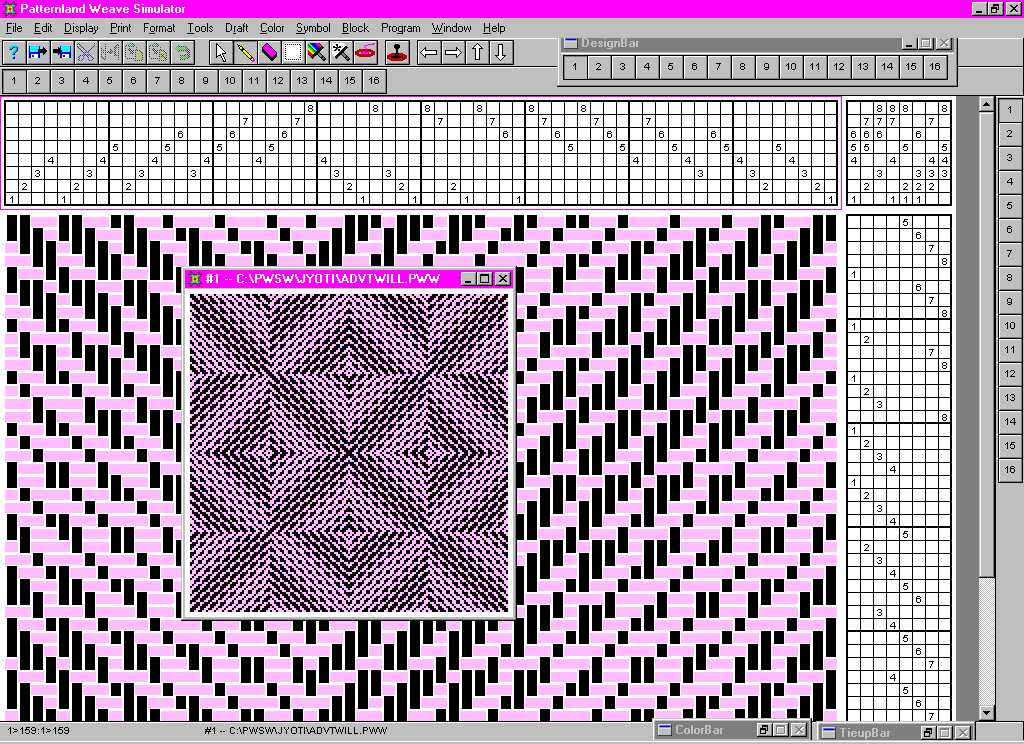 ADVANCED PROGRAM FEATURES
Our new Windows Weaving Editors for drafting woven design are fully interactive meaning that you will see warp and weft threads interlace as you enter the draft. At the same time as you enter the draft you can also view the cloth-like Mini-Display. The Mini-Display window shows a small-scale graphics view of the pattern as it would appear from a distance. The number of warp threads, weft picks, shafts, treadles and lift-plan rows is virtually unlimited. You can have more than one shaft per warp thread and more than one treadle per weft row. You can choose a treadling with tie-up or lift-plan, or both setups can be used on-screen or printed simultaneously.
Block substitution is possible in the threading, treadling, tie-up, and lift-plan. Pattern analysis is accomplished using our Weave Wizard feature. You can display and edit more than one weaving at a time. This enables you to compare multiple threadings, treadlings or tie-ups, or cut and paste to move and alter components. You can also merge or overlay two threadings, tie-ups, treadlings or lift-plans. You can perform fancy copying operations creating advancing copies or copy using symmetrical operations, including rotating the tie-up. There is also float count, heddle count and thread-color count utility with printable reports, and a yarn calculator.
SCALEABLE 3D THREAD-BENDING INTERLACEMENT AND PUBLICATION-QUALITY PRINTING
Our new 3D-effect thread-bending interlacement can be adjusted in the amount of bend and scaled to any size in both warp and weft in ends-per-inch or centimeter. The interlacement really has the look of cloth on-screen and printed. You can even see through the surface interlacement to the backside of the cloth in some weave structures. You can adjust the thickness of the yarn or thread and the amount of space surrounding it. Variable thread thickness is also possible. The more standard graphics style printout composed of small squares or pixels, like the logo in the letterhead above, is also possible.
Flying Geese Curtain Detail. 24-shaft experimental network draft by Jyoti Coyle.
20.5 epi & ppi thread-bending simulation, screen capture of Print Preview.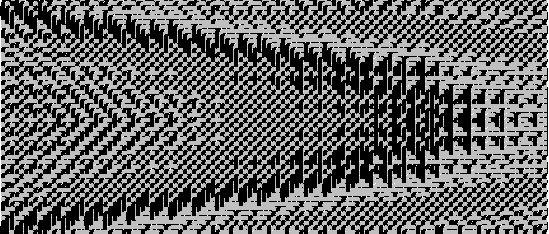 PWSW is the Windows version of Patternland Weave Publisher, the software we created for Interweave Press to publish A Weaver's Book of 8-Shaft Patterns by Carol Strickler. The program contains built-in publication-quality printing with desktop page preview and block marker notation in the style of Handwoven magazine. Now you can also create your own yarn textures or shading using a new bitmap feature. Weaving instructors can choose options to hide any draft component leaving blank graph paper for student work. PWSW uses any printer installed by MS-Windows.
DESIGN EDITOR
The Design Editor will allow you to create patterns for tapestry, ikat, or other fiberarts and can also be used for network drafting. When you transfer a completed network draft back into the Weave Editor the draft can be viewed and printed with multi-digit numeric data.
Patternland Weave Simulator for Windows Screenshot
Design Editor with Design Mini-Display and Colorbar Palette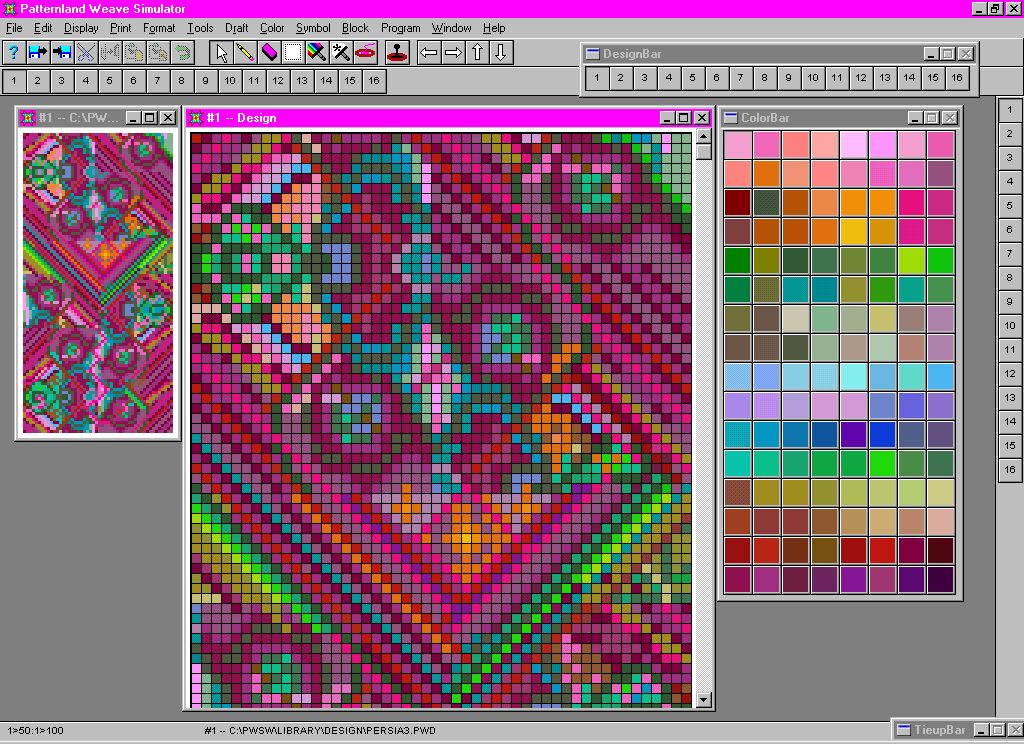 You can create or print the design using a square or rectangular style graphpaper in the Design Editor. Depending on your settings you can stretch the rectangles horizontally or vertically.
Print/Design Preview of Design Editor Set Up for Horizontal Rectangular Graphpaper
Settings: Design Column Spacing 200, Thickness 195 with Design Row Spacing 100 and Thickness 95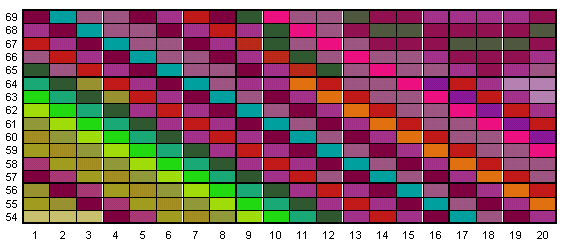 Print/Design Preview of Design Editor Set Up for Vertical Rectangular Graphpaper
Settings: Design Column Spacing 100, Thickness 95 and Design Row Spacing 200, Thickness 195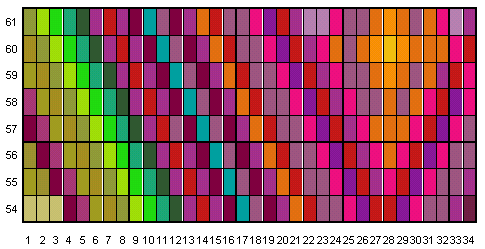 TWO NEW COLOR ILLUSTRATED MANUALS

Two new manuals are now available for the program. The new Patternland Step-By-Step Guide by Jyoti Coyle comes with the program, is 100 pages in length and features numerous color illustrations explaining the varieties of editing setups, color palette creation and printing options. It also includes a section on network drafting and using the Design Editor for tapestry-style designing. Patternland for the Computer Illiterate Weaver by Eleanor Best provides detailed instructions to help you get started and learn the basics, with tutorial style task-oriented explanations. Eleanor Best is a recognized teacher and author of books on computer aided design for weaving and the process of woven design. Eleanor's manual walks the new user through setting up template files for editing and covers advanced topics such as block substitution. Her manual is approximately 50 pages in length, spiral bound and also comes with color illustrations.

LIBRARY, TUTORIAL AND PRINTABLE ON-LINE HELP

Our new library contains multi-shaft weave files, loom control files, networks, tapestry design files, and color palettes. The library allows you to open sample weaving files and experiment with editing in different styles and using different color palettes. The library is expanding with each new version and will include editing template files in the future. A tutorial contained within the program provides an introductory program orientation. The program also contains extensive "hypertext" on-line help that can be printed. When you click your mouse on a hypertext word you will receive a definition and the option to jump to pertinent topics in the help.

COMPUTER ASSISTED LOOM SUPPORT

Bob Kelly of Citadel Enterprises and Ravi Nielsen, programmer of Patternland programs, developed the Loom Interface Port Standard (LIPS) to provide a common interface that loom builders and software developers could use to control a loom. Since we placed LIPS in the public domain, the Schacht Spindle Company, Cyrefco, and others have adopted the standard. We support the Schacht Combby 8, Cyrefco Compumarche, AVL Compu-Dobby I & II plus Cartridge, J-Made J-Comp, Macomber Air Dobby and Electronic Single Peddle, and the Louët Magic Dobby Electronic Interface looms.

WIF FILE SUPPORT

Patternland Weave Simulator for Windows includes support for the new Weaving Information File, a supplemental common file format that will allow users to import and export files between weaving programs. Just as an ASCII file allows PC and Mac users to share text files, WIF allows users of any WIF-compliant program to share weaving files. You can now share weaving files between programs if you use more than one program, or share weaving files with friends who use other programs. Authors can publish diskettes of patterns using this common format. WIF was born of the same philosophy of openness as LIPS. Ravi designed a readable and expandable standard file format and presented the draft of the new standard to Bob Keates of Fiberworks and Rob Sinkler of Swiftweave. Together they collaborated via email on the details of WIF until they reached a consensus on the new standard. Now Swiftweave, ProWeave, WeaveIt and Weave Simulator support WIF.

WEB SITE & PWSW TRIAL EDITION

Our World Wide Web site on the Internet is www.mhsoft.com. "Mhsoft.com", short for Maple Hill Software, is our Internet name; or use www.patternland.com. You can send email to mhs@mhsoft.com. Our web site features program screenshots, woven drafts, and information about Patternland Weave Simulator for Windows. It also features our full program as a 21-day Trial Edition available for downloading. If you prefer we can also mail you the Trial Edition on disk for $20, good toward program purchase. If you download the Trial from the web page and decide to purchase a license, we can email the license to you and it will unlock the full potential of the program right away. Part 1 of our Patternland Step-By-Step Guide is also available for downloading and is printable from MS Word versions 6.0 or newer. The Trial Edition also serves as our program update. Program updates through version 6.19 will be available to program users free of charge from our web page, or you can purchase them from us as the Trial Edition.

Patternland Weave Simulator for Windows is known for its versatility and contains numerous professional features that will encourage your weaving and computer expertise to grow. We are continuously updating program capabilities. Suggestions are welcomed and often included in new versions. Download or order the Trial Edition to discover the range and depth of the new Weave Simulator. Thank you for your interest in our software.

Ravi Nielsen, Programmer & Jyoti Coyle, Artist/Weaver

2/98
---
Home Page
Copyright © 1997-98 Maple Hill Software
Last updated: 3/3/98